LoCash, the tenacious duo made up of Preston Brust and Chris Lucas, found success all on their own long before they struck chart gold on a record label. After releasing an album independently in 2008 and earning three Top 50 singles, they released LoCash Cowboys in 2013 on Average Joes Entertainment.
Although their time on Average Joes earned LoCash (formerly known as LoCash Cowboys) plenty of new fans, it wasn't until the guys signed with their current label, Reviver Records, that Brust and Lucas found themselves competing with artists on major labels for the top spot on the charts — and winning. "I Love This Life" and "I Know Somebody" became big hits for LoCash in 2016.
Read on to learn more about The Boot's picks for LoCash's five best songs (so far).
5. "The Fighters"
From 'The Fighters' (2016)
The title track of LoCash's newest album, "The Fighters" epitomizes exactly what LoCash are about. Written by veteran songwriters Rodney Clawson, Tom Douglas and Matt Dregstem, the song says in part, "Hot August dust / In God we trust / Cold beer in the left hand / Friday night catchin' on fire / This ones for you, yeah / This ones for the fighters."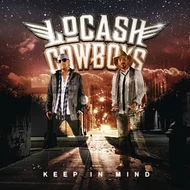 4. "Keep in Mind"
From 'LoCash Cowboys' (2008)
LoCash included "Keep in Mind" on their first album, which they released independently. Giving an early indication of how hard Brust and Lucas were willing to work, the song landed in the Top 40 — without the support of a label or promotional staff.
3. "Ring on Every Finger"
From 'The Fighters' (2016)
Thomas Rhett, Jesse Frasure and Josh Kear wrote "Ring on Every Finger" about romantic love in overdrive. With lines such as "I'll put on a ring on every finger / Just to show that I'm legit / Gonna try my last name on ya girl / Just to see if it fits," the groovy song was exactly what LoCash wanted to round out The Fighters.
"It's a great tune; it's real cleverly written. It's got a nice little dance beat to it, but it's romantic at the same time," Lucas tells The Boot. "A lot of guys are going to hate us, and a lot of women are going to love us."
2. "I Love This Life"
From 'The Fighters' (2016)
LoCash's first Top 5 hit, "I Love This Life," was written by Brust and Lucas, along with Danny Myrick and Chris Janson. It's an optimistic, uptempo hit that represents all that LoCash believe in.
"We're not trying to change the world, and it's not rocket science, and it's not a real deep song; it's just something that makes you feel good," Brust tells The Boot. "The very first time we played it, everybody's hands [were] up in the air, everybody started smiling, everybody started moving, and it was like, okay, we've got something here."
1. "I Know Somebody"
From 'The Fighters' (2016)
"I Know Somebody" was LoCash's first No. 1 hit, and with good reason. Written by Rhett Akins, Ross Copperman and Jeremy Stover, "I Know Somebody" is a catchy song that's perfect for both radio and the duo's live shows.
"I'm a huge fan of that song — huge," Lucas tells The Boot. "I sent it to Preston, and I was like, 'This is a radio smash. It's a smash. We've got to sing it.' He agreed, and someday, it became a single, and here we are."